Chihuahua puppy with a pedigree
In this article we will try to answer important questions about a chihuahua puppy with an issued pedigree.
What is a dog's pedigree certificate?
How and when does a chihuahua puppy with a pedigree issued go to a it's new family?
What will I get as the new owner when I will be picking up my new puppy?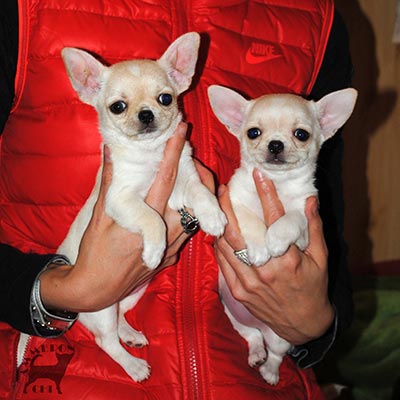 What is pedigree?
The certificate of origin (also referred to as a pedigree certificate) is an official document that determines the affiliation to the breed of the animal and thus also confirms the characteristics of the animal according to the breed standard recognized by the relevant breeding association in the country (in Slovakia this would be the Slovak Cynological Unit – SKJ). The certificate of origin is the animal's birth certificate, as it contains in the first part all the important data about the animal and as well it's full pedigree (at least three generations of ancestors). The second part contains the results of exhibitions, tests, certification and as well the results of veterinary examinations for breeding recognition. It has to be mentioned that the pedigree does not limit you in any way, nor does it carry any obligation for you to go to future exhibitions with the animal.
How and when does a puppy go to a new family?
between 9-12 weeks of age (depending on the condition and weight of the puppy, and only after the second vaccination cycle)
the puppy has to be in excellent condition, healthy, completely independent, used to the normal running of the household
trained to defecate on the mat, of course the owner must continue the early training
examined by veterinarians under the guidance of MVDr. Garaj and Januška from the veterinary clinic in the city of Sereď
properly de-wormed several times (every 2 weeks)
2x vaccinated
chipped and with an issued EU vaccination card
What will I get as the new owner when I will be picking up my new puppy?
a package of quality food and basic equipment for the puppy (to ease up the transition period of the puppy to the new owner)
FCI pedigree (if the pedigree is not yet issued when the puppy is collected in person it is sent to the new owner by registered post at a later stage)
lifelong consulting service provided by the seller
What is a reservation fee and what does it stand for?
Reservation deposit basically represents a contractual penalty for failure to pick up the puppy (it can be collected in person or by bank transfer)
without a deposit, any procedure related to the sale of a puppy is only non- binding for both sides, hence why the reservation fee is usually agreed upon
the deposit is fully refundable to the buyer in case of poor health of the puppy before the collection will take place, in remote cases of the death of the puppy or when new facts are discovered about the future owner of the animal (e.g. that the owner is a reseller or other very concerning facts like animal abuse, etc.)
the deposit is non-refundable if the future owner withdraws from the collection of the puppy, or the puppy is not collected properly by the 10 th week of its age
In conclusion, the deposit serves mainly to cover the costs incurred for the further keeping of the given puppy and to compensate for the loss or postponement of the purchase opportunity in case it will not happen